Partner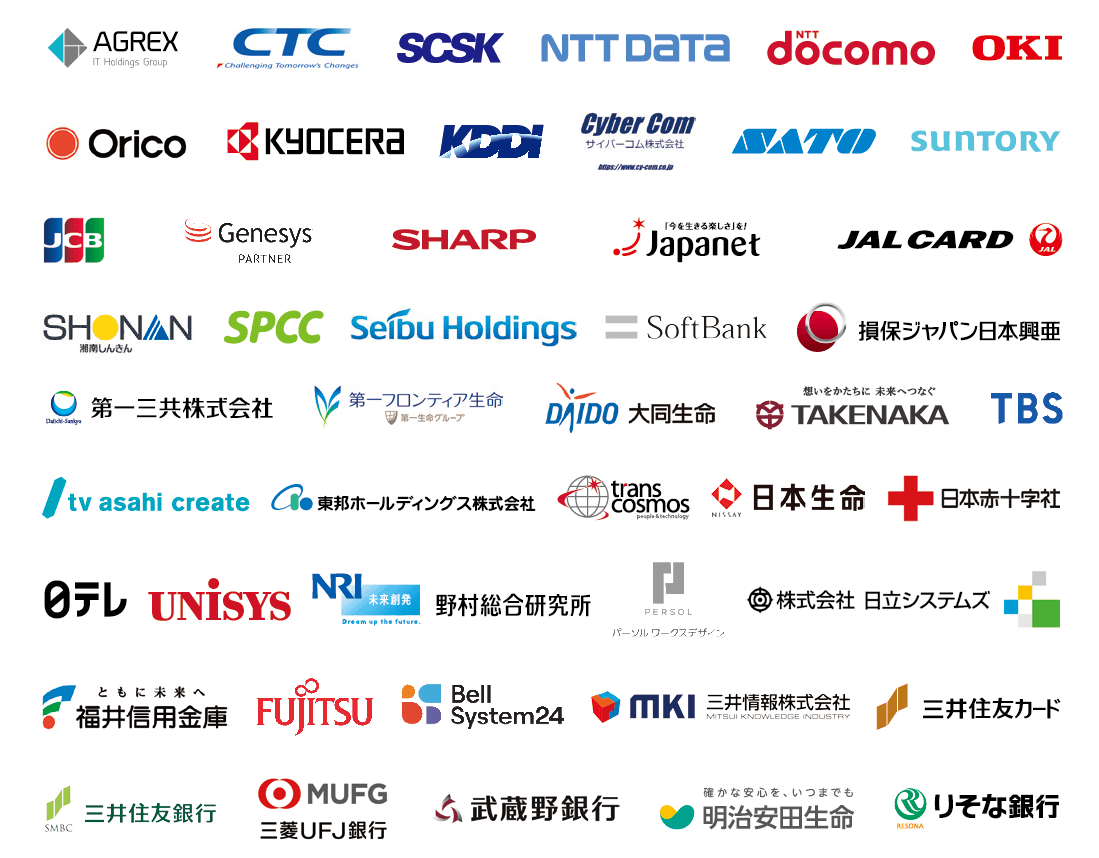 information and communications
IIJ Global Solutions Inc.
INTEC Inc.
Science Arts, Inc.
C_Net Corporation.
Genesys Cloud CX Services, Inc.
System Support Inc.
CIMTOPS CORPORATION
Shamrock Records, Inc.
T&D INFORMATION SYSTEM Ltd.
TECHMATRIX CORPORATION
Hitachi, Ltd.
Plus Alpha Consulting Co., Ltd.
Mizuho Research & Technologies, Ltd.
MIRAIT Information Systems Myanmar Co.,Ltd.
LINK, INC.
Renesas Electronics Corporation
Asahi Mutual Life Insurance Company
A・C・S Credit Management Co., Ltd.
au Kabucom Securities Co., Ltd.
SBI SECURITIES Co.,Ltd.
The Juroku Bank, Ltd.
TAIJU LIFE INSURANCE COMPANY LIMITED
Mitsui Sumitomo Insurance Company, Limited
Sumitomo Mitsui DS Asset Management Company, Limited
Mitsubishi UFJ Morgan Stanley Securities Co., Ltd.
Otsuka Pharmaceutical Co., Ltd.
DAIICHI SANKYO ESPHA CO., LTD.
NIHON CHOUZAI Co., Ltd.
Veeva Japan K.K
Osaka Prefectural Government Office
Okinawa Prefectural Office
Shiga Prefectural Government
Tokyo Metropolitan Assembly
Toride City Council
Niigata Prefectural Office
Hyogo Prefectural Office
Fukushima Prefectural Office
Hokkaido Assembly
Minato Ward Office
The Kansai Electric Power Company, Inc.
Ginza Cozy Corner Co.,Ltd.
TableMark Co.,Ltd.
construction and housing equipment
Tobishima Corporation
LIXIL Corporation
Hakuhodo DY Holdings Inc.